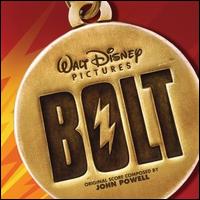 The Bolt Original Soundtrack was created by John Powell and features the work of John Travolta, Miley Cyrus, and Jenny Lewis.
Score
I Thought I Lost You (3:37)- John Travolta & Miley Cyrus
Barking At The Moon (3:20)- Jenny Lewis
Meet Bolt (1:51)- John Powell
Bolt Transforms (1:00)- John Powell
Scooter Chase (2:31)- John Powell
New York (1:46)- John Powell
Meet Mittens (1:27)- John Powell
The RV Park (2:16)- John Powell
A Fast Train (2:40)- John Powell
Where Were You On St. Rhino's Day (2:00)- John Powell
Sing-Along Rhino (0:44)- John Powell
Saving Mittens (1:04)- John Powell
House on Wheels (3:09)- John Powell
Las Vegas (2:03)- John Powell
A Friend in Need (1:15)- John Powell
Rescuing Penny ( 3:12)- John Powell
A Real Live Superbark (0:48)- John Powell
Unbelievable TV (1:22)- John Powell
Home At Last/Barking at the Moon(Reprise) (1:29)- John Powell & Jenny Lewis
Other songs not in the score
Although Motörhead has a song in the film, they do not seem to appear in either the soundtrack or the score. Motörhead's song, "Dog-Face Boy" (from their Sacrifice album) is in a mailroom scene where a young worker is listening to it on his headphones and inadvertently wraps Bolt up in a box that gets shipped off to New York City. There are other symphonc songs present in the film, but not in the score.
Trivia
The French version of the song Barking at the Moon is completely different than the English version. The translation of the French version is related to some degree, but translation of the full song will reveal that the makers placed more emphasis on rhyming the French version instead of translating it correctly.